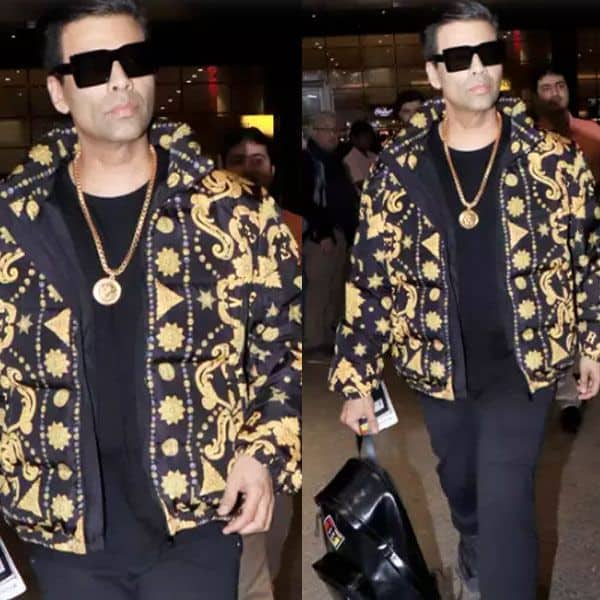 When it comes to designer wear in Bollywood, no one can beat Karan Johar. He is the big daddy of branded stuff and his wardrobe is worth lakhs, or may be crores. From A to Z, he can tell you all the names of brands and owns something from each of them. Karan Johar's jacket collection has always been the talk of the town. There are few like Diljit Dosanjh who also share his passion for high-end jackets. Today, we will focus on a Baroque jacket flaunted by the filmmaker at the airport. Yes, Karan Johar's airport looks are something else. From a transparent Louis Vuitton bag with a hologram to his military trench coat, his fashion statements are a delight for the critics.
The Baroque print was something Gianni Versace introduced to fashion in the late 1980s. This particular piece worn by Karan Johar has an all-over padded style. The Baroque-pattern jacket is of the puffer variety. It comes with a hood, stand-up collar, long sleeves, elastic cuffs, side pockets and prints all over. It also has the signature Medusa head. Now, let us come to the cost of the jacket. It is priced at $2,554, which amounts to Rs. 1,94,000. You truly need deep pockets to own something of this sort, plus a flamboyant personality to carry it, like that of KJo's. The Bollywood A-lister teamed it with black pants, a black tee and a Medusa locket chain from Versace.
Some of the top models in the world like Cindy Crawford, Naomi Campbell and Linda Evangelisita have worn the design. The Baroque print is a marked difference from the normal Italian artistic tradition that had more of florals, cherubs and divine influences. Gianni Versace's bold and brash collection quickly caught the imagination of the fashion-savvy the world over. So, it's not surprising to see Karan Johar in one of these immortal pieces.